BACKGROUND
In partnership with United Nations Institute for Training and Research (UNITAR), and in collaboration with Japan – The Government of Japan, the project "" is designed to strengthen the capacities of five local CSOs namely Tanmia 360, Perpetual Peace, Moomken Organization, Solidarity for Women Support & Empowerment –Tadamon, and National Caucus of Fazzan Via capacity building activities and workshops (TOT) in the reconciliation and resilience context, with a specific focus on youth. The implementation of these responses on the ground and throughout Libya's diverse communities will be led by these five CSOs partners.
Since 2020, UNITAR has put at the service of Libyan civil society organizations (CSOs) its extensive expertise in strengthening the capacities of CSOs in different conflict-affected contexts including through UNITAR's support to the UNDP in the implementation of Output 3 of the Initiative Stabilization Facility for Libya. In this framework, UNITAR has been leading the development of a comprehensive capacity building and development program tailored to the specific needs of actors on the ground. Through its constant work with Libyan CSOs in different parts of the country, UNITAR has gained specific experience and knowledge of the context that is crucial for concretizing the efforts toward peace and reconciliation at local and national levels.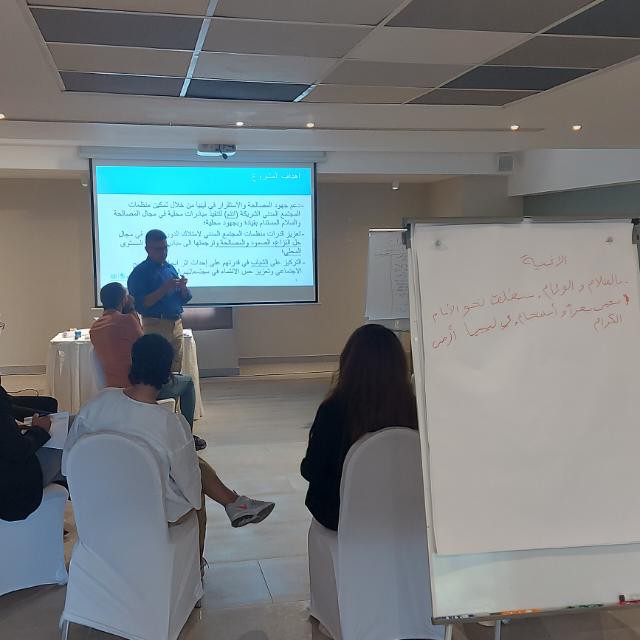 To that end, the project put emphasis on building organizational and technical capacities through tailored training workshops as well as mentoring and coaching activities that would enable participants to take ownership of their leading role in the enhancement of conflict resolution, resilience, and reconciliation. UNITAR will work closely with its partners over the course of the upcoming year to utilize change and yield results that will serve the establishment of a peaceful and inclusive Libya.
The project aims to support international efforts for stabilization and reconciliation in Libya in the current transitional period by empowering the Libyan civil society. Essentially, the project is made possible by the generous funding and cooperative initiative of the Government of Japan and its commitment to support the Libyan people's choices and aspirations to overcome this transitional stage and move toward a peaceful and stable future.